theWorks Magazine: the Spring Edition is here!
---
We've officially said goodbye to 2020 and hello to 2021, thanks to the turning of the calendar and the authorization of T4s – give yourself a well-deserved pat on the back!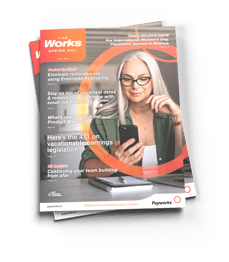 Throughout the year, we're here to offer legislation reminders, important workforce management tips, and the latest news direct to your inbox. Download our Spring Edition of theWorks Magazine for all of the info Canadian businesses, payroll practitioners and HR professionals need to know at the start of a new year.
What's in this latest edition? Here's the roundup:
Get to know the women who power payroll
Workforce Analytics update: introducing bookmarks for dashboards!
Stay on top of important milestones with email notifications
Everything you need to know about minimum wage and vacationable earnings
A preview of upcoming product webinars
And much, much more!
Subscribe to theWorks blog to receive your free copy of theWorks Magazine directly to your inbox.