theWorks Magazine: kick back and relax with our Summer 2021 issue!
---
We're halfway there, but livin' on more than just a prayer – in fact, we're still doing business to business, person to person, and as our workforces transition through re-openings, flexible work options and approaching year-end duties (yes – we said it!), we're here to help every step of the way!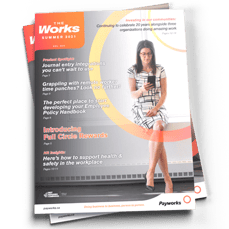 We've got your back in all things payroll, HR and more. Dive into this edition of theWorks Magazine for up-to-date info on Canadian legislation, rewards for referrals, professional guidance and support in developing an employee policy handbook, and so much more!
Top stories you don't want to miss:
We'd love to introduce you to our recently launched Full Circle Rewards program!
And, you'll be excited to learn more about our new Employee Policy Handbook.
Looking to improve your hiring process? Check out the latest enhancements to Applicant Tracking Pro.
Please join us on the edges of our seats – the journal entry integrations you can't wait to use are right around the corner!
Grappling with remote worker time punches? We're here to help.
At a time when it's more important than ever, here's how to leverage our solutions for your health and safety initiatives.
And so much more!
Subscribe to
theWorks
blog to receive your free copy of
theWorks
Magazine directly to your inbox.